RV Campgrounds Along the Pacific Coast Highway
Ethan Wilder
July 31, 2023
Looking for the best campgrounds along the Pacific Coast Highway? We have the best RV campgrounds highlighted and listed below with CampersCard.
Pacific Coast Highway
The Pacific Coast Highway is actually a pair of highways—US Highway 101 and Highway 1—that make up the Pacific Coast Highway. It is typically referred to as the Pacific Coast Highway, Pacific Coast Byway, or even Scenic Highway 1. The latter being the most popular portion of the Pacific Coast Highway.
This 1,650 mile scenic drive will take you from Port Townsend, Washington to San Diego, California. This route passes beautiful landscapes, rugged coasts, beautiful beaches, scenic small towns, national forests, national parks, and plenty of fantastic campgrounds.
Here we will help you navigate your trip from the north to the south—and navigate it one state or region at a time. We are traveling from the north to the south to help keep you on the ocean side of this unforgettable journey. Let's start with the state of Washington.
Helping You Navigate Washington's Pacific Coast Highway
Washington's section of the Pacific Coast Highway starts in Port Townsend—about 50 miles from Seattle. It is made up of 325 miles, and will easily take a full day's drive without all these stops. Don't be in a hurry to get to Oregon because Washington has some amazing places! Here are just a few you'll want to consider.
Port Townsend
This is a great town to start your journey on. They have a great downtown with art and food taking center stage. It has a unique Native American history mixed with unique architecture and of course a fishing village vibe.
Sequim & Port Angeles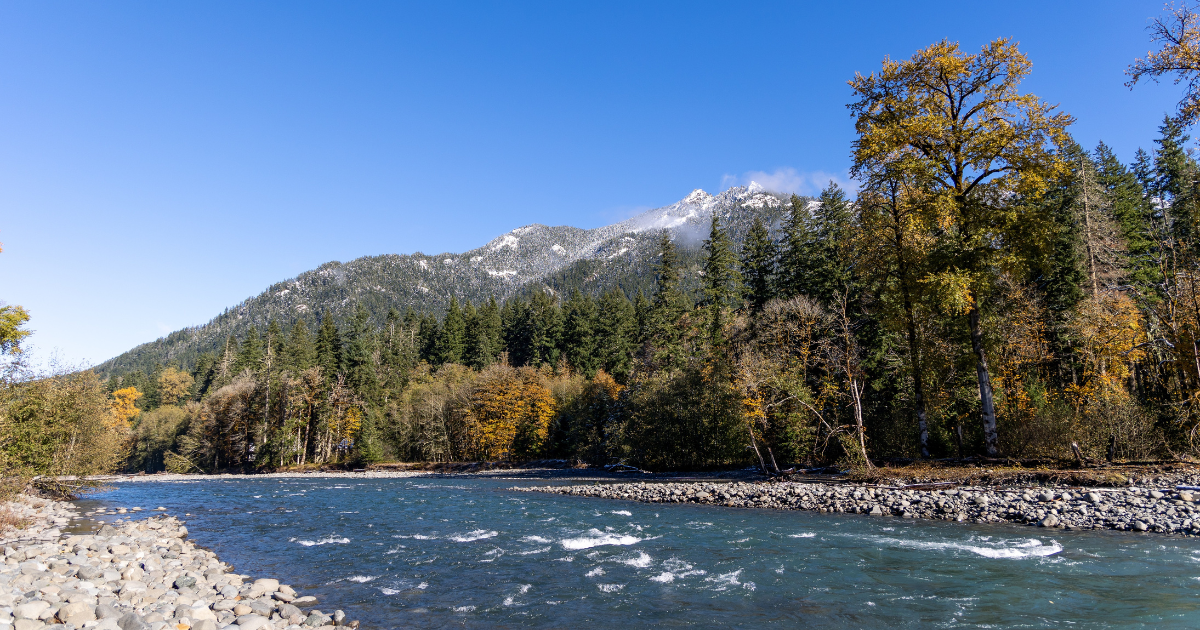 These are both unique towns. Sequim has a little more sunshine and a very pedestrian focused area to walk through town. Port Angeles is on the doorstep to Olympic National Park. It feels a little more geared towards those looking to the mountains.
This National Park has the most diversity of any National Park in the United States. It has alpine lakes, towering peaks, rain forests, rugged coastlines, and incredible rivers. The Pacific Scenic Highway loops around the park and gives you access to so much. It would be a shame to not take advantage of being so close.
Hurricane Ridge
This is the easiest portion of mountainous terrain to access inside Olympic National Park and is a short 17 minute drive from Port Angeles. On Hurricane Ridge, you'll get picturesque views, plenty of hiking trails, and a visitor center.
Devil's Punch Bowl
If you want to feel like you are seeing an entire lake filled with Iced Blue Raspberry Lemonade Kool-Aid, make a trip to the Devil's Punch Bowl inside Olympic National Park. This area is a part of Lake Crescent and will require a short walk down the Spruce Railroad trail, but worth the effort.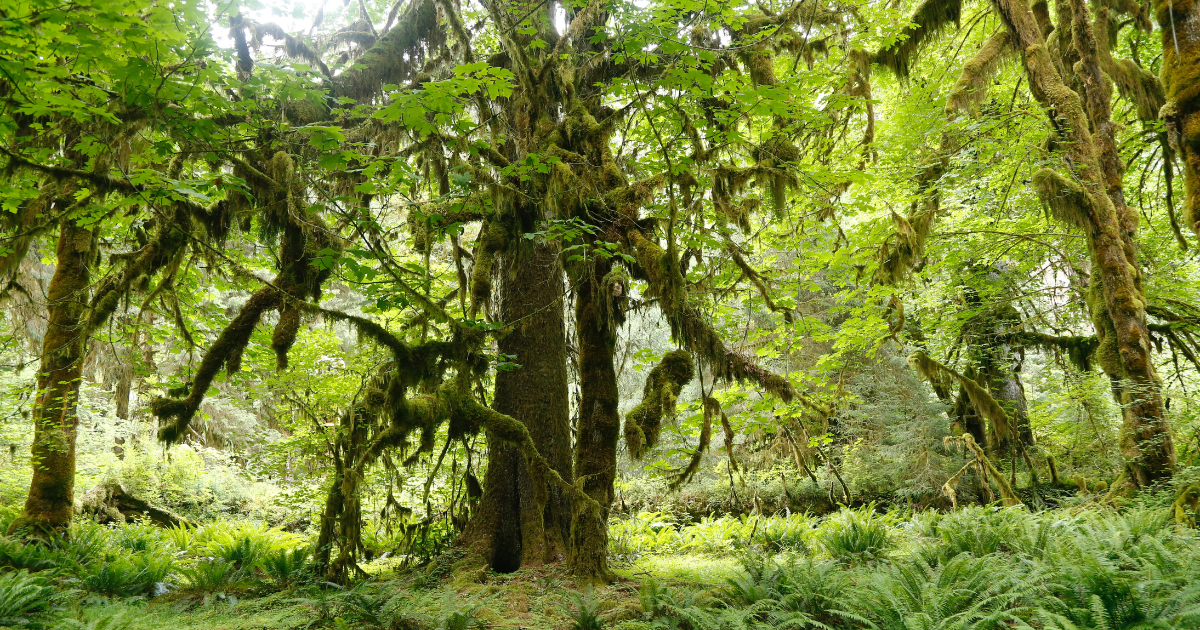 This rain forest typically gets over 14 feet of rain per year. It is an incredible experience to visit this rain forests with trees over 1,000 years old. The moss hanging from the trees, fauna on the ground, and sheer size of the trees are worth the detour.
Two rugged beaches that you'll often see on people's Instagram stories. They both have a relatively short hike and offer great views of the scenic Pacific Coast.
Forks, Washington
This town is the backdrop of the fictional town in the movie series Twilight—and they will let you know it. As you roll into town, there is no shortage of information about things to do in the area to take in the "Twilight" experience.
Cape Flattery
If you want to visit the most northwestern point of the lower 48, you'll want to detour off route just a little bit. Make your way to Cape Flattery for these bragging rights—though it is worth a trip even without the desire to brag.
Grays Harbor County
Grays Harbor County is located in southwest Washington. And if you love water, this might be a great stop on your journey south. It is home to harbors, lakes, streams, rivers, and more. Get your kayak, SUP, or canoe out and go explore. If you want to check out another rainforest, you can visit the Quinault Rain Forest here.
Top RV Campgrounds Near Washington's Pacific Coast Highway Attractions
Here are some of the best campgrounds to check out specific areas listed above.
Best RV Campground to Visit Olympic National Park—North End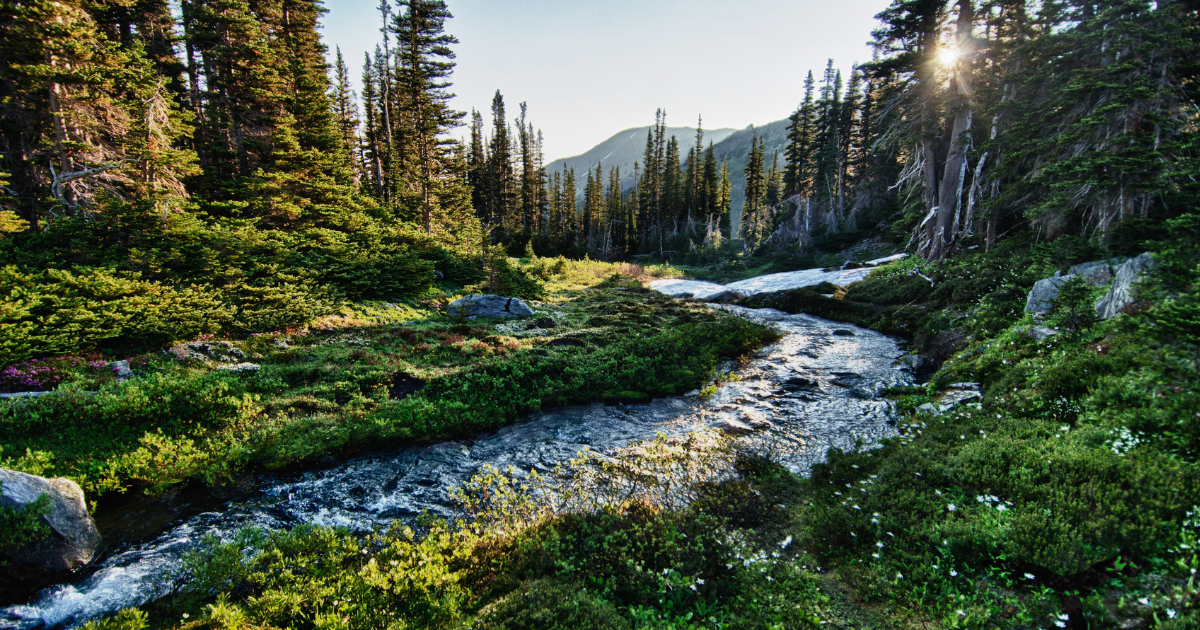 Crescent Beach and RV Park is a great homebase to explore the northside of Olympic National Park. It is a quiet RV park right next to the beach. Here you'll be 30 minutes outside of Port Angeles and at the base of the mountains. They offer RV sites, tent sites, and cabins.
Best RV Campground to Visit Olympic National Park Rugged Coast
On the Quileute Tribal Land, Quileute Oceanside Resort & RV Park is located right on the rugged Olympic National Park coasts. Here you'll have easy access to Second Beach, Third Beach, Forks, and a reasonable drive to the Hoh Rainforest.
Best RV Campground to Visit Grays Harbor County
Hoquiam River RV Park is a mile north of town and easily accessible from Highway 101—the Pacific Coast Highway. The ease of accessibility and being centrally located makes this a perfect last night stay for your last day in Washington.
Helping You Navigate Oregon's Pacific Coast Highway
Oregon's section of the Pacific Coast Highway is 363 miles long and will take about 12 hours to drive straight through. It passes beautiful coasts, lighthouses, grasslands, and more great towns.
Clatsop County
This will be your first stop across the state line. It has a list of great things to see and do. Starting with Astoria.
Astoria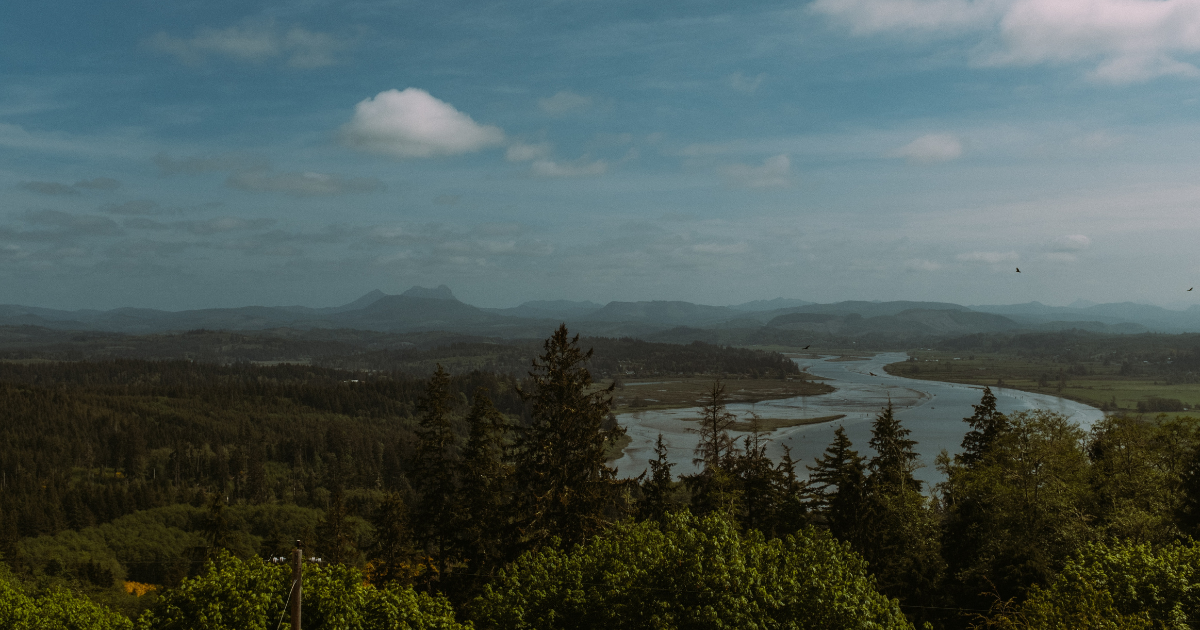 Astoria is a coastal city that overlooks the Columbia River. It is one of the oldest settlements west of the Rockies. If you spend some time walking around the town, you might feel like you are in a storybook from yesteryear. It is worth spending some time here, catching up on some work, and restocking for the next journey of the trip.
Fort Stevens State Park
Fort Stevens State Park has one of the largest public campgrounds in the nation. It has 4,300 acres with plenty to do for adventure seekers, nature enthusiasts, and history buffs. This was a place of historical significance—especially during World War II.
Cannon Beach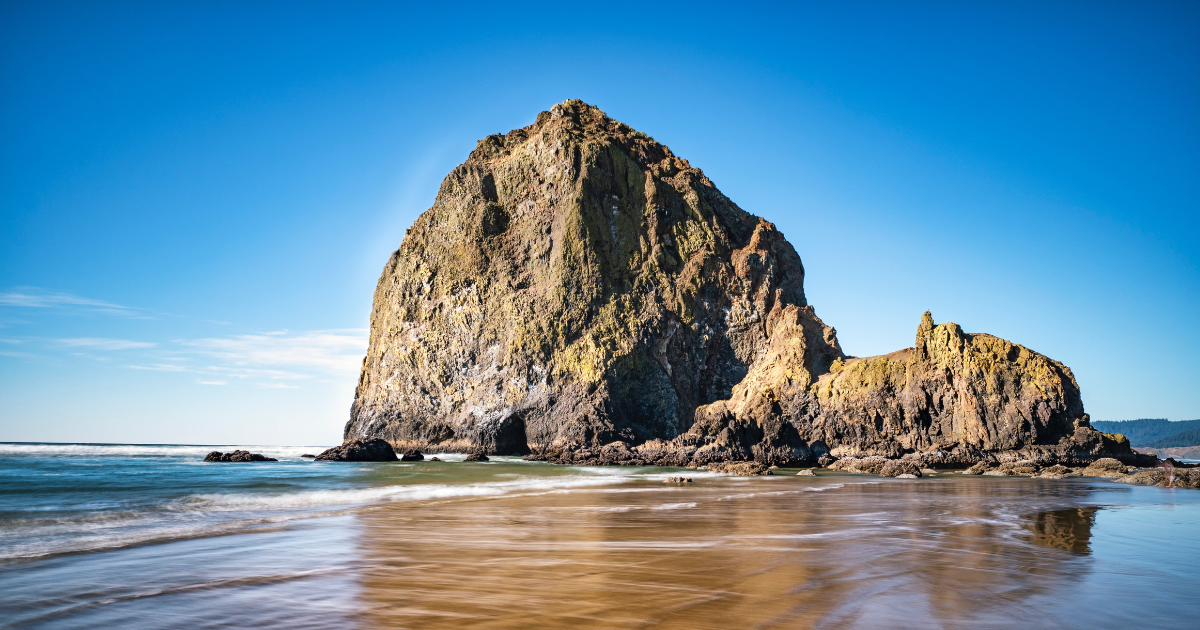 Cannon Beach is a town and a place you've probably seen pictures of before. The Haystack Rock is an iconic picture that every tourist traveling through feels the need to photograph. If you find yourself here, make sure you get your own photo, but enjoy the arts and culture in town too.
Take a Right (West) at Tillamook for Three Scenic Lookouts
When you find yourself entering the beautiful river valley town of Tillamook, you might want to detour from Highway 101. If you take a scenic loop—that connects back to Highway 101—you'll get a chance to see these amazing overlooks.
Cape Meares State Scenic Viewpoint is a must for those traveling the extra 60 mile loop. From this spot, there is a chance to see whales, sea lions, and other marine life. Plus, they have a great lighthouse.
Cape Lookout State Park offers camping and is a great place for weary travelers to stop for the day or night. This is the second of the three major lookouts in the region and has become a favorite place for RVers to return.
Located near the beautiful town of Pacific City, you'll find the last of the three most popular scenic lookouts in the region. Cape Kiwanda State Natural Area offers viewpoints that look a little different. Set against the backdrop of sand dunes, you'll get a different perspective understanding of the Oregon coast.
Newport & Dune City
Newport is home to the tallest lighthouse on Oregon's prolific coast. Plus, this city is that picture perfect seaport town you'd expect in the New England states and there is an aquarium. If you are looking for a town to slow down a bit, consider Newport.
Dune City is home to some of the world's largest sand dunes. It has a lot of opportunities for people to tour these by foot or ATV. There are rental companies in the area to help you rev up your blood pressure and explore the dunes with a gas powered motor.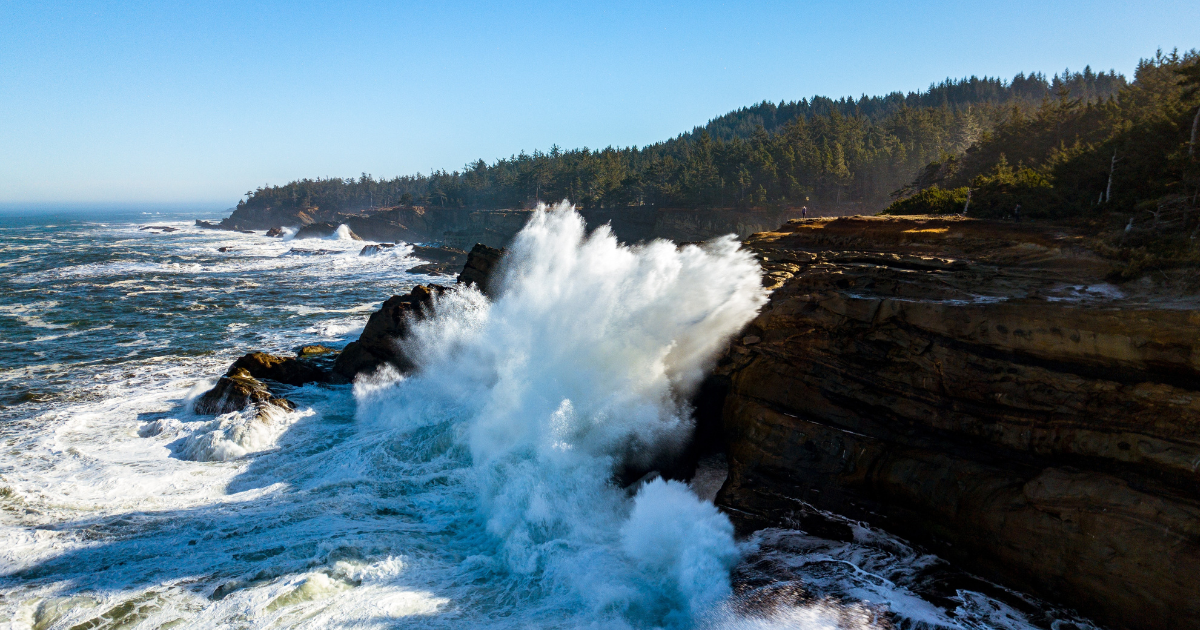 This is one of the largest communities along the Oregon coast. It has plenty to do in town, but also allows travelers a place to rest and explore the area. There are plenty of outdoor opportunities here.
Gold Beach to the State Line
This section of the drive is absolutely breathtaking. Along the coasts here you'll find meadows leading all the way to the shores or rock faces with waterfalls spilling onto the beach. A portion of this is known as the Samuel H. Boardman State Scenic Corridor. You'll understand why this gets special attention once you are here. Make sure you give yourself time to explore it.
Top RV Campgrounds Near Oregon's Pacific Coast Highway Attractions
Looking for campgrounds near each of these attractions? Or maybe you want a few that are centrally located. Here is our list to help you hit some of the top spots on Oregon's coast.
Best RV Campground to Visit Astoria & Clatsop County
Lewis & Clark RV Park & Golf is across the Astoria-Megler Bridge from downtown Astoria and in the northern part of the county. From here you can check out Lewis and Clark National Historic Site and Fort Stevens State Park within 10 minutes of your RV Park. And Cannon Beach is less than 25 miles away. Plus this campground has everything you need to catch your breath—including rounds of golf.
Best RV Campground to Visit the Three Scenic Lookouts
When you turn right at Tillamook, you will be heading to an incredibly beautiful area—but there aren't a lot of campgrounds. Once you enter the Pacific City area—toward the end of your scenic loop—you'll see a few different RV parks. Cape Kiwanda RV Park is a great spot just across from the beach and close to downtown Pacific City.
Best RV Campground to Visit Oregon's Central Coast
Seal Rocks RV Cove is the perfect place to stay while checking out Oregon's central coast. From here you are in Newport, close to Lincoln city, and not far from Dune City.
Best RV Campground to Visit Oregon's Southern Coast
As you make your way south, you'll want to stop near Gold Beach—if you are planning another night. Here you'll find several RV parks, but Secret Camp RV Park is a perfect spot in the woods. It is only a few miles out of the way and is located near the Rogue River.
Helping You Navigate California's Pacific Coast Highway
California is home to the majority of the Pacific Coast Highway and is broken into two different routes. From the north, you'll be on Highway 101—just like in Washington and Oregon—but you'll take highway 1 near Leggett. Highway 1 is the most famous portion of this scenic route, but there is plenty to see in California to the north.
Northern California Sights
Northern California is much different than SoCal or even San Francisco. It is rugged, mountainous, and has more in common with Oregon than our typical understanding of California. You'll see lots of mature trees, rivers, and rocky coasts. Here are some great sites between the state line and San Francisco.
This city is the beginning of the "Redwood Highway" portion of the Pacific Coast Highway—when traveling south. It has a historic lighthouse and easy access to multiple Redwoods areas.
This is a good town to take in the tall Redwoods. But the real reason this town is on the list is because this is the home to Paul Bunyan and Babe the big blue ox. Here you'll see a 49 foot statue of him.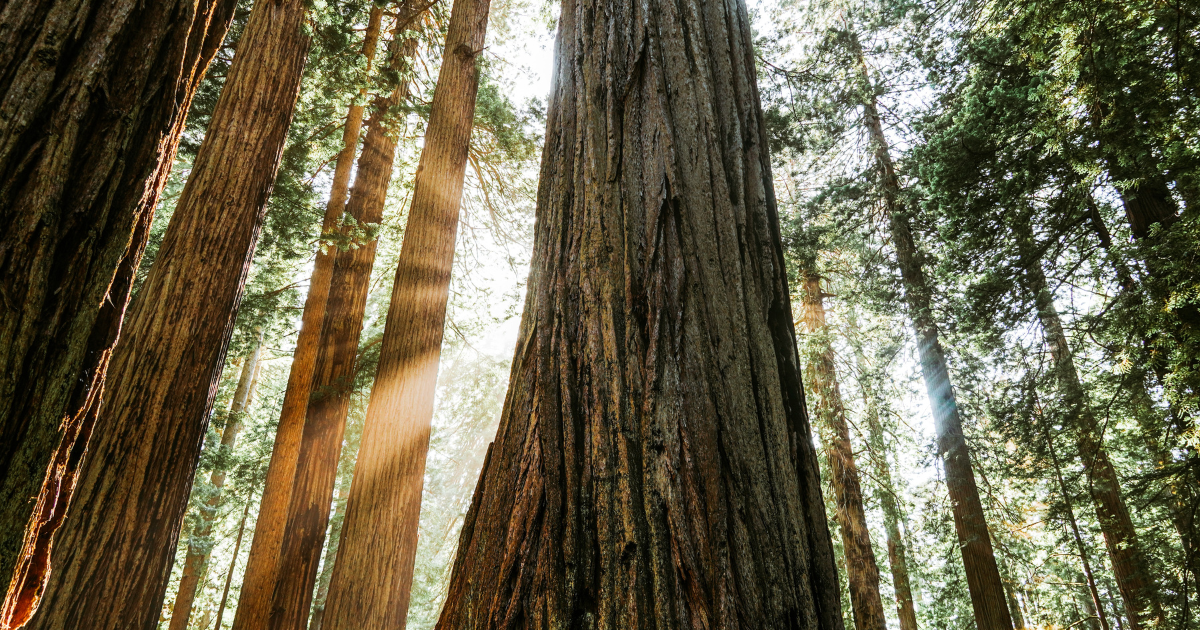 Redwoods National and State Park is home to the oldest redwood trees in the world—some are more than 2,000 years old. The redwoods are scattered through this region of California. You'll find yourself going in and out throughout this portion of your drive. Just make sure to stop and enjoy these magnificent trees.
If you are looking for a homebase to enjoy the Redwoods, this is your town. Eureka fully embraces its nature, but it also has a wonderful town with events and other activities for the family. Here you can enjoy a great meal and restock for your journey.
Fort Bragg is most known for its glass beach. What started as a factory dumping heaps of glass into the ocean, nature took and repurposed it. Now, you can walk this beach that is covered with smooth glass. It truly shows the power of mother earth.
Central California Sights
From San Francisco to Los Angeles, you'll see a lot more traffic, but some of the most spectacular views. You'll pass through world class cities and feast your eyes on some of the most photographed areas in this beautiful state. Here are some great sites between San Francisco and Los Angeles.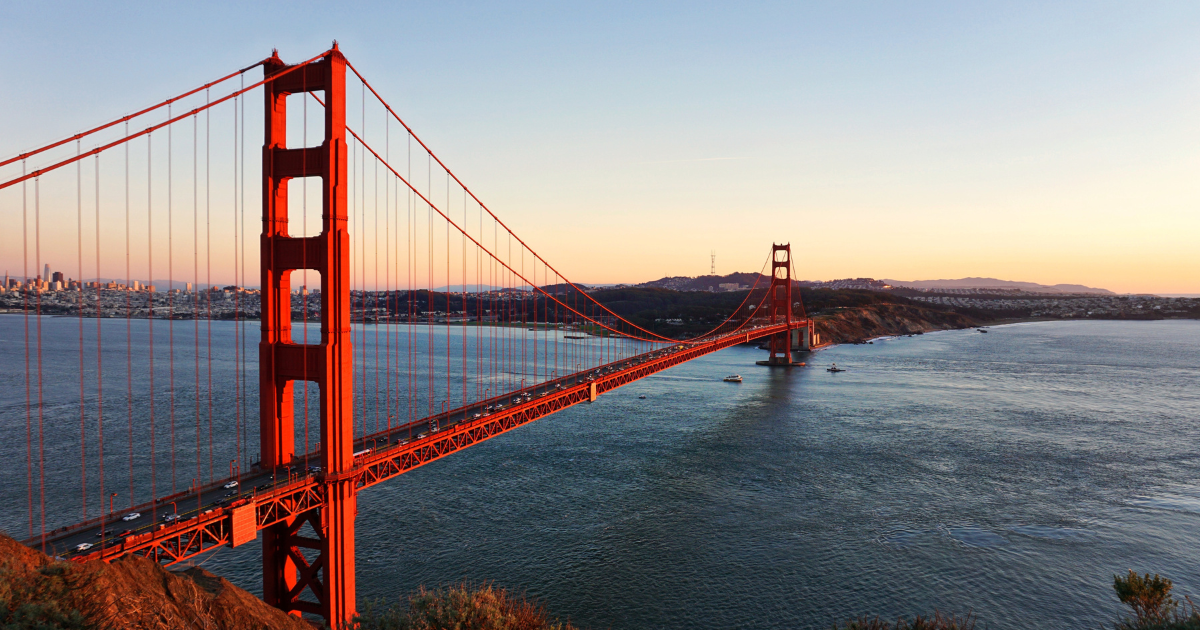 You can spend a month here touring this city. Alcatraz, the Golden Gate Bridge, the food scene, and so much more make this town worth stopping by for more than an iconic photo. And if you want to get out of the city, you can cross the bridge and explore Muir Woods National Monument.
Santa Cruz and Huntington Beach both claim the "surf city" title. But Santa Cruz was the first place in California to see the surfing scene start. This town has a great surf culture, an engaging boardwalk, and an overall fun place to spend some time.
If you want to spend some time in a great small town in California, Carmel-By-The-Sea is a great place. The coast seems otherworldly. The town is unique and small, but fun. Plus, you can see one of the United States' best golf courses nearby—Pebble Beach.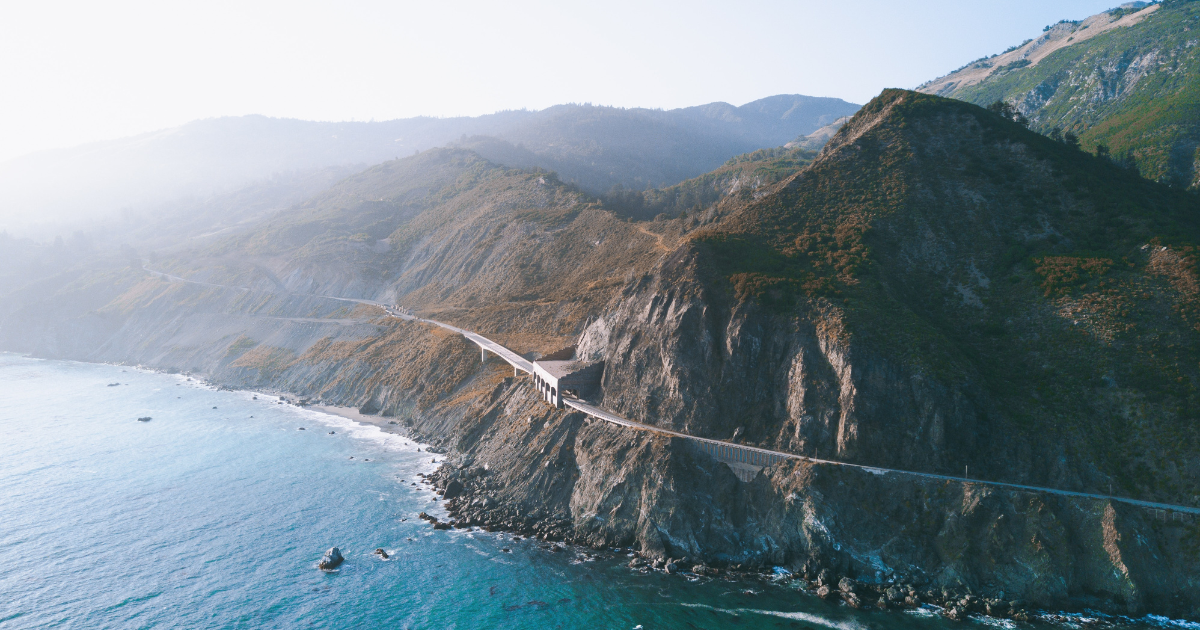 This is the Jewel of Highway 1 in California. Big Sur offers a rugged coast, wonderful hiking, and is one of the most visited places in all of California. Here you'll want to visit Pfeiffer Big Sur State Park and Limekiln State Park, and the iconic Bixby Bridge.
This castle will need about two hours—minimum—to visit. This Castle is an amazing display of gothic architecture in the perfect setting. If you are into architecture or just amazing views, this is worth a visit.
This town has become a hot spot for many travelers over the years. From here you'll have plenty of hiking trails in Los Padres National Forest, fantastic architecture, beaches, wineries, and cafes.
Southern California Sights
From Los Angeles to San Diego, you'll see something completely different from what you saw in northern California. This is the stereotypical California you see on TV. Large expansive beaches, surfing, and some of the best weather you'll ever see. Here are some great sites between Los Angeles and San Diego.
The entertainment capital of the world won't disappoint. With famous places like Venice Beach, Sunset Strip, and HollyWood, you'll want to allot some time to explore the city of angels and the surrounding area.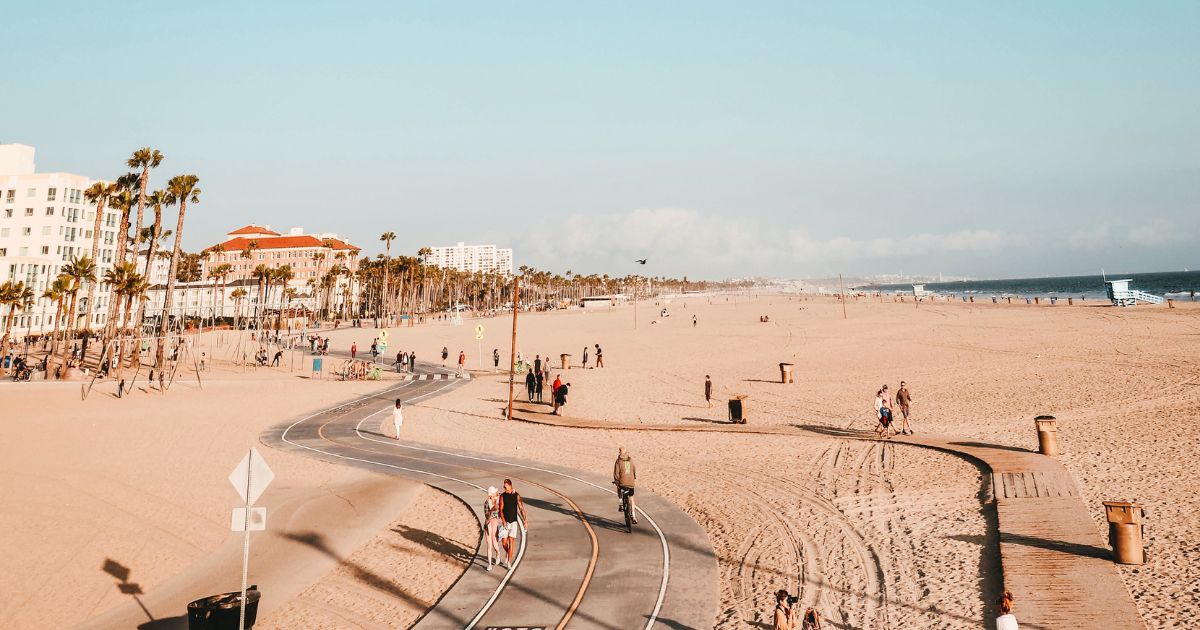 This is definitely in the greater Los Angeles area, but it deserved its own spot on the list. It has great restaurants, a bustling nightlife, and one of the most famous Piers in the United States.
These are two of the more famous beaches in Orange County. Huntington Beach is the other "Surf City" according to Santa Cruz and boasts an impressive display of people surfing on a regular basis.
Many people will say that San Diego has the most beautiful beaches in the entire country—Hawaii included. Because of the miles of beaches located in this region, you might even score one with very few to no people to share it with. San Diego has perfect weather, a diverse culture, and some great restaurants. Once you get to San Diego, don't be in a hurry to end your Pacific Coast Highway roadtrip.
Top RV Campgrounds Near California's Pacific Coast Highway Attractions
There are a ton of campgrounds to take advantage of everything California has to offer its visitors. Here we will help put you in a position to explore different areas from one centralized location.
Best RV Campground to Visit Redwoods State and National Park
For a natural environment in a small campground near the Redwoods, consider the Mystic Forest RV Park. They have sites up to 100 feet in length and pull through sites.
Best RV Campground to Visit Fort Bragg
If you can get a site at MacKerricher State Park, you'll be glad you did. Here you can stay up to 14 days—tent campers allowed—and you will be close to Fort Bragg beach. They allow RVs up to 35 feet in length.
Best RV Campground to Visit San Francisco
Marin Park has 87 RV sites and is just 10 minutes north of the Golden Gate Bridge and even closer to Muir Woods. The sites aren't huge, but you are going to spend your time out and about the city anyways. Consider Marin Park for your stay and you'll be pleased.
Best RV Campground to Visit Carmel-By-The-Sea
In the city of Monterey, they offer camping at the [Veteran's Memorial Park](https://monterey.org/city_hall/parks _recreation/beaches,parks playgrounds/camping_and_hiking/index.php). This is a great option for visiting Monterey and Carmel-By-The-Sea because they are in close proximity. At the city park you will have 50 acres to explore with forests and it is located about one mile from downtown Monterey.
Best RV Campground to Visit Big Sur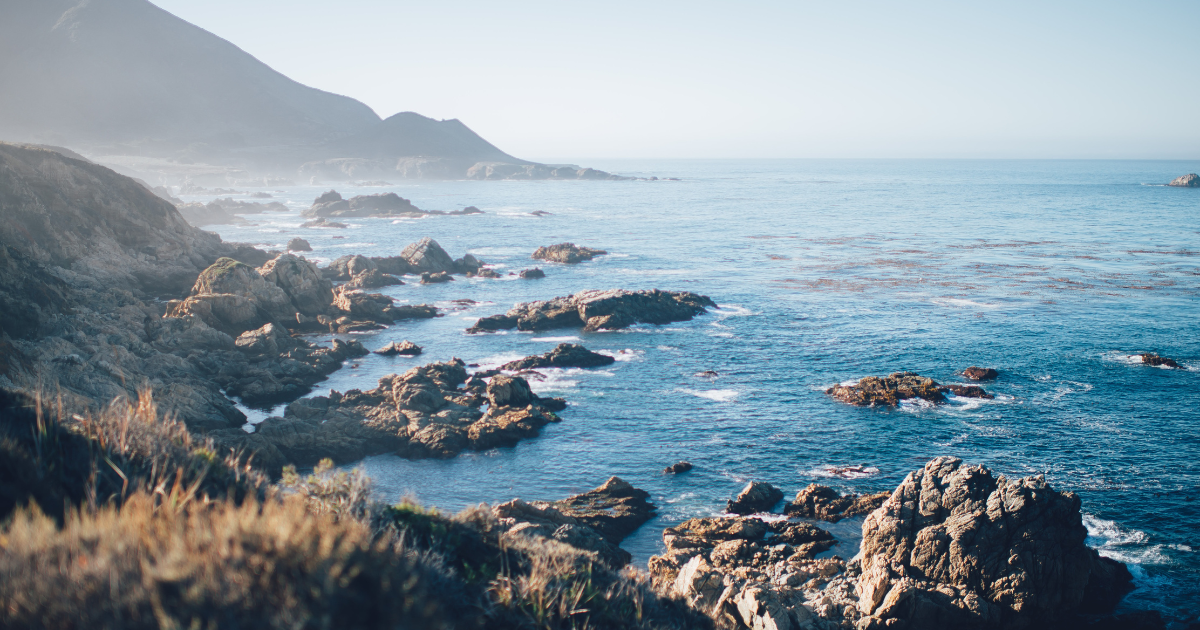 You can't get a bad site in this beautiful area of California. But our pick for spending an extended amount of time in Big Sur is Big Sur Campground and Cabins. They are located along the Big Sur River among some of the majestic redwood trees. It is a pretty amazing place.
Best RV Campground to Visit Santa Barbara
Santa Barbara Sunrise RV Park is a small, family owned RV Park. It offers comfortable sites with the care and hospitality of a family owned business. It is a great urban RV park that is designed for you to explore their city.
Best RV Campground to Visit Channel Islands National Park
Waypoint Ventura Vintage Trailer Hotel & Campground is a unique experience and lodging option for a visit to Channel Islands National Park. It's got vintage trailers on site and room for you to bring your own. They thrive on creating outdoor spaces to hangout and get to know other travelers.
Best RV Campground to Visit the Greater Los Angeles Area
If you are wanting to stop for a while in the LA area, Golden Shore RV Resort in Long Beach could be your best bet. It is nicely located and well-maintained. From here you can visit the entire area in a reasonable amount of time—depending on that LA traffic.
Best RV Campground to Visit San Diego
As your journey comes to a close, you'll want to end on a high note. The Surf & Turf RV Park won't let you down. This RV park is north of San Diego and just a few blocks from the beach and the Del Mar Thoroughbred Club.
Get Ready for Your Coastal Adventure
If these locations sound like a dream trip to you, why not get started today? If you're ready to soak up some sun, swim in the ocean, and hit the open road, plan out your RV trip along the Pacific Coast Highway. And don't worry… CampersCard is here to help guide you in finding all the best RV campgrounds along the way.
About CampersCard
CampersCard is the latest campground discount program by the team at Harvest Hosts. This program connects campers on a budget with high-quality campgrounds. Campgrounds offer CampersCard members exciting benefits such as early check-in, late checkout, and discounts on nightly rates to be part of the program. The benefits will quickly offset the membership cost. It's a win-win for everyone!
Hailing from Austin, Texas, is a trusted authority in the camping and RV travel sphere. Renowned for his engaging narratives, Ethan contributes regularly to platforms like Harvest Hosts, CampersCard, and CampScanner. His narratives, fueled by his deep-rooted love for exploration and a knack for discovering unique camping locales, resonate with the spirit of adventure. Beyond travel writing, Ethan provides thoughtful commentary on the human experience. Inviting his readers on exploratory journeys through diverse landscapes, Ethan infuses his work with humor, discovery, and a steady sense of readiness for the adventure ahead.